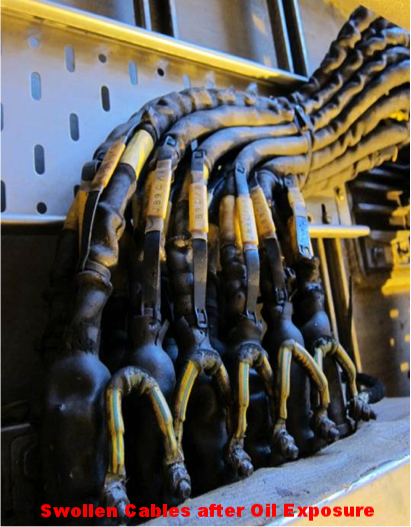 Do you want to risk specifying less expensive electrical cables on your offshore oil rig that could cause a multi-million dollar electrical system failure?
The oil and gas industry has documented that by not specifying the highest performing cable at relatively modest additional cost has led to systems and operator downtime sometimes as expensive as $500,000 to $600,000 per day per incident.
Cables specified for electrical and fire safety systems need to operate in extreme environments for cold, high heat, wet, chemical exposure (minerals and esters), sunlight, and longer and hotter operating times.
Thermoset materials are better than thermoplastic types when exposed to extreme temperature and drilling muds with harsh chemicals and oils. However, not all thermoset materials perform the same. Some materials have trade-offs such as low resistance to thermal cycling or failure in arctic temperatures down to -70C.
When specifying cables for offshore marine oil rig electrical systems don't risk fire safety and electrical failures. Exane ® MR, manufactured by RSCC Wire & Cable, East Granby, Connecticut, has a historical industry position of meeting and exceeding standards required by IEC 61892-4 and NEK 606.