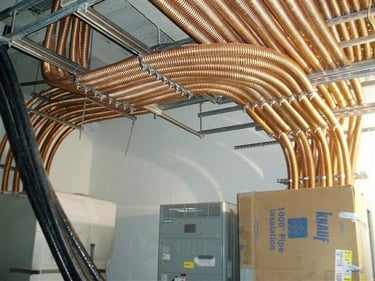 There are differences between cables that are flame retardant and those that are fire rated. Flame retardant cables can resist the spread of fire but fire rated cables maintain circuit integrity and continue to work in the presence of fire. This article below will describe the differences between flame retardant and fire rated cables.
Flame Retardant
Flame retardant cables are used to resist the spread of fire but functionality doesn't withhold when in the presence of fire for a specified time. According to Control Cables, " flame retardant cables under the prescribed test conditions, the specimen is burning, in out of the way after the test of fire, the flame spreads only within the bounds of, residual flame and burns in a limited time is off of the cable itself. Its fundamental characteristics are, in case of fire it is possible to be burned out, unable to run, but you can prevent the fire from spreading." Flame retardant cables are not intended to continue to operating under fire circumstance but are used to resist the flame from spreading. A flame retardant cable is designed to only restrict the spread of a fire by restraining combustion. .
Vs.
Fire Rated
A fire rated cable is one which will continue to function in the presence of fire for a stipulated time in fire conditions. These cables are rated to maintain continuity during the presence of fire and continue to function for a period of time. A fire rated cable is needed when circuit integrity is required to assure the safe egress of building occupants or orderly shutdown of systems. These cables are often required in local and national building codes as well as standards which ensure the safety of refineries, roadway tunnels and transit systems. Additionally, the cables are also specified by engineers or stakeholders to provide performance which will increase the operational safety level of many systems. The insulation layer of fire rated cable is able to withstand high degrees of heat to ensure the electrical circuit is maintained without shorting. Many of these cables have the additional attribute of being fire resistive.
R-SCC

True innovators examine what presently exists, and ask: "How can this be improved?" In the world of specialty engineered wire and cable manufacturing, the answer to this question is comes form RSCC. The unique operational strengths of two recognized industry leaders combine to provide strategic advantages for our customers in worldwide industrial and electrical industries as well as those in the specialty markets of transportation and petrochemicals.


For more information about R-SCC's fire rated and flame retardant cables call us at 860-653-8300 or go to our website.

Or, if you need information on the cost comparison of MI and MC cables using NECA labor rates, check out the link below.