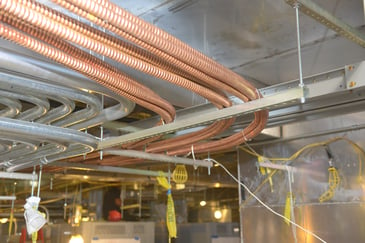 What do stadiums, road way tunnels, subways, high-rise buildings, and other essential structures have in common? Their construction requires fire-resistant wiring. Of course, there are codes and standards which require this, but it's also common sense.
There are a variety of fire-resistant, circuit integrity cables that have been specifically manufactured for special applications that have been listed after the 2012 UL suspension. Typically, these cables are used wherever there is a need for life safety of occupants and the need to keep critical circuits functioning to aid in their safe egress.
Critical circuits typically include feeders for fire pumps, elevators, smoke control equipment, fire alarm systems and other similar circuits.
The National Electrical Code (NEC) requires that these critical circuits have a 2-hour fire rating. This code has been structured to allow additional time for building occupants to exit a building during an emergency and to provide uninterrupted power for fire fighting equipment and emergency communication systems. That's also required where occupant mobility is limited and time must be allowed for egress, such as in hospitals and other institutions that care for people. Fire-rated cables also offer enhanced protection for airports, railway tunnels, data centers, and other critical applications. This post will briefly cover your main options for fire-rated cables.
MI Cables
Mineral Insulated (MI) cables historically have been the choice for fire resistive cables, invented in 1896 it has been around for over 100 years. MI cables utilize solid copper conductors and magnesium oxide insulation to provide products that meet UL 2196. Installation requires significant expertise as well as unique tools to provide an attractive installation which may appear more appealing over years as the copper jacket oxidizes to provide an appealing patina. MI cable has been approved by electrical codes for years as a fire resistive cable and offer products in a variety of sizes and constructions.
MC Cables
VITALink Metal-Clad (MC) cables offer a 2-hour resistance rating listed to UL 2196 contained in an armor that not only serves as mechanical protection, but also as a ground path.
MC cables are known for their lowered installed cost over other wiring methods that meet the NEC requirements for 2-Hour Fire Rating, such as MI cables, construction methods, wraps or 2" of concrete encasement. Fire Rated Circuits are required to remain operational during a fire to support firefighting operations and the safe egress of occupants. It has been re-certified under the new UL 2196 guidelines for 2-hour fire resistive cables for use as FHIT system 120.

VITALink MC Cables offer ease of installation over other methods of providing Fire Rated Circuits where required by codes and standards.

R-SCC
In 2014, RSCC gained approval for product with a 2 HR listing to UL 2196 for its MC (metal clad) cable product lines.
Feel free to check out our MC vs. MI cost comparison chart. We use the NECA labor rates to compare the labor units of MC vs. MI. Find out which cable necessitates the most time and cost to install and terminate.